Napoleon's St Helena Sword up for Sale
First time Balcombe sword available in 200 years
By Richard Moore
Napoleonic collectors take note - you have the chance to pick up a very rare personal item from Emperor Napoleon Bonaparte himself.
It is Napoleon's ceremonial sword, pictured right, that the French emperor took with him into his final exile on St Helena.
The sword is currently in the possession of the last descendant of the Balcombe family - which lived on St Helena at the time of Napoleon's exile (1815 to 1821).
William Balcombe was a British merchant on St Helena and his family - particularly his daughter Betsy - became friendly with France's former leader.
In fact Betsy Balcombe was a favourite of Napoleon's - he spent a lot of time talking with the girl - and he allowed her to play with the sword that is now on offer.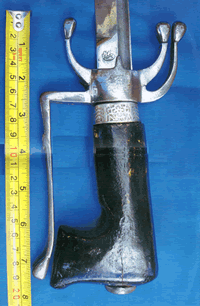 As token of his affection for the Balcombes, Napoleon gifted many items to the family - including the ceremonial sword.
Many of the historically significant artefacts are on display at The Briars museum homestead, just south of Melbourne, in Australia.
They include furniture, a lock of Napoleon's hair and one of his death masks.
The sword remains in the Balcombe family some 200 years after being given it by Napoleon Bonaparte.
A fellow of the International Napoleonic Society Dr William Mayo says when William Balcombe moved to Australia from St Helena he brought the sword with him and it ended up with his grandson Alexander Balcombe and was then left to its present owner, who is also from the Balcombe family.
Dr Mayo says the provenance of this sword is outstanding - One of the main reasons being the unbroken link of 200 years it has been with the Balcombe's.
He has prepared an authentication letter for this historical gem.
Dr Mayo says he cannot give an exact dollar value for the weapon but the only other recent sale of one of Napoleon's swords was in Paris in 2008, where it fetched $6.8 million.
The Balcombe sword has a little damage, it was caught in a house fire, but Dr Mayo says the weapon still presents well.
You can contact Patrick O'Connell, the Balcombe family's sales agent for the sword, for expressions of interest/offers/questions on his email: mayoinavalon @yahoo.com.au.
.