The Guillotine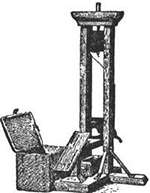 Picture of Louis XVI's Execution
Description of Louis XVI's beheading
By Richard Moore
Designed by Dr Joseph Guillotine, a man described as kindly and who wanted to make execution more humane, the guillotine quickly became a symbol of tyranny during the French Revolution.
Victims were placed on a bench, face down, and their necks positioned between the uprights.
The actual beheading was very quick - often to the gathered crowd's disgust - taking less than half a second from blade drop to the victim's head rolling into the waiting basket.
However, debate rages over whether the quickness of the execution was humane or not, as many doctors put forward the notion that it could take up to 30 seconds before the victim lost consciousness.
That piece of gruesome news would not have worried the crowd, which continually called for aristocratic and royalist blood to be spilt.
An estimated 40,000 people travelled on the tumbrils through Paris to die under Madame Guillotine.
Facts and Figures
Total weight of a Guillotine was about 580 kilos (1278lb)
The blade weighed over 40 kilos (88.2lb)
Height of side posts was just over 4m (14ft)
The blade drop was 2.3m (88 inches)
Power at impact was 400 kilos (888lb) per square inch.