MUSIC REVIEW
The Plains of Waterloo
(Songs and music of the Napoleonic Wars)
The New Scorpion Band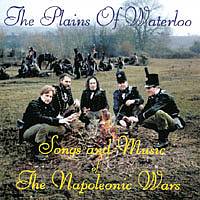 By Richard Moore
I just love British folk music and military songs from the Napoleonic period. Okay I get sideways looks from a number of people, but the rattle of drums, pipes and old instruments does it for me.
And the lyrics, the use of English really transports you back into a time that was so different and, yet, so similar.
The New Scorpion Band is one of those groups that I have heard tracks and songs from and I really like their approach to the songs and music.
They use contemporary instruments that just sound so old. There is no synthesiser here just a mellow harmonium that is augmented by a bassoon, side drum, flutes and Uilleann Pipes, tin whistles and many others.
Throw in the lead vocals of Tim Laycock that have a distinctive style and you have a unique sound. Together with Brian Gulland, Robin Jeffrey, Colin THompson, Robert White and guest member Michael Gregory, Laycock has blended a superb collection of evocative songs onn this CD.
On The Plains of Waterloo the standout tracks - for me - are The Route Has Just Come for the Blues, Drink Old England Dry, the title track and Bold Nelson's Praise, which I have heard before by the band.
Napoleonic buffs should really try to get hold a of a copy of this band's work as it will transport you into the great era.
Track list
1. The Route has just come for the Blues
2. The Grenadier's March 1776/The Rogue`s March
3. Drink Old England Dry
4. Boney Crossing the Rhine/Madame Bonaparte
5. The Plains of Waterloo/The Blackbird
6. Jolly Jack tar/Lord nelson`s hornpipes
7. Lady Nelson's/Lord Nelson's Waltzes
8. Bold Nelson`s Praise
9. The Girl I Left Behind Me/The British Grenadiers
10. Waterloo Dance
11. Little Boney
12. St Helena March
13. Boney on St Helena