Bassano
Location maps for battles in Italy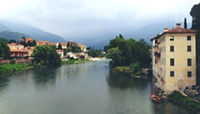 Hotels in Venice
Tours & Events in Venice
The picture-perfect riverside town of Bassano was the scene of a crucial battle between the French and Austrians in 1796.
It was a major French victory and sent another nail into the political and military coffin of Austrian hopes for northern Italy.
75 km (47 miles) north-west of Venice. 1 hour 9 minutes drive.
128 km (80 miles) north-east of Lonato. 1 hours 35 minutes drive.
123 km (77 miles) north-east of Mantua. 1 hour 43 minutes drive.
131 km (82 miles) north-east of Castiglione. 1 hours 38 minutes drive.
154 km (96 miles) east of Brescia. 1 hour 58 minutes drive.

Battle Description

---
If you are touring New Zealand then check out TikiTouring for tours and accommodation deals.