Touring: Castiglione
Location maps for battles in Italy

Hotels in Verona
Hotels in Milan
Tours & Events in Milan
Hotels in Bologna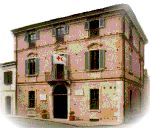 The field of Castiglione is much as it was when the battle was fought in 1796 with the villages little-changed in more than 200 years.
Finding good vantage points is not easy, due to lush growth brought on by better farming techniques, although a hill south-west of Castiglione offers a pretty good place to overlook the battlefield.
There is a castle in the village, but it is private property and is not available for people to visit.
11 km (7 miles) south of Lonato. 10 minutes drive.
46 km (29 miles) west of Verona. 36 minutes drive.
48 km (30 miles) north-west of Mantua. 45 minutes drive.
117 km (73 miles) east of Milan. 1 hour 47 minutes drive.
139 km (87 miles) north-west of Bologna. 1 hours 54 minutes drive.

---
If you are touring New Zealand then check out TikiTouring for tours and accommodation deals.