Tours: Lodi
Location maps for battles in Italy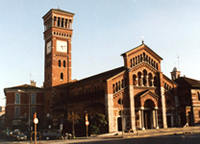 Hotels in Lodi
Hotels in Milan
Tours & Events in Milan
Hotels in Brescia
Hotels in Bologna

Despite being badly damaged during the battle, the Church of San Giovanni Nepumeno still exists today, albeit with a modern belltower - the original being destroyed by Austrian artillery fire.
Nearby is the site of the bridge made famous during the battle. The current bridge was built further downstream.
26 km (16 miles) south-east of Milan. 25 minutes drive.
67 km (42 miles) south-west of Brescia. 1 hour 5 minutes drive.
90 km (56 miles) west of Lonato. 1 hour 22 minutes drive.
116 km (73 miles) west of Mantua. 1 hour 46 minutes drive.
176 km (110 miles) north-west of Bologna. 1 hours 58 minutes drive.
Battle Description
Photograph from The Napoleon Series
---
If you are touring New Zealand then check out TikiTouring for tours and accommodation deals.