Tours: Mantua
Location maps for battles in Italy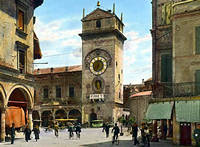 Hotels in Verona
Hotels in Brescia
Hotels in Bologna
Hotels in Venice
Tours & Events in Venice
Hotels in Florence
Events & Tours in Florence
Hotels in Milan
Tours & Events in Milan

The fortress at Mantua no longer exists in its entirety, however the outlying village of Citadella is built upon where it once was. You can get an idea of its size by looking at the surviving - and massive - gate.
Mantua was one of the four key defensive Austrian strongpoints in northern Italy - known as the Quadrilateral - the others were Peschiera, Legnano and Verona.
A park near the centre of Citadella is where Andreas Hofer, the Tyrolian revolt leader, was executed in 1810.
You can also spend some time looking Mantua's beautiful architecture.
48 km (30 miles) south-east of Lonato. 45 minutes drive.
48 km (30 miles) south-east of Castiglione. 45 minutes drive.
58 km (36 miles) south-west of Arcola. 50 minute drive.
104 km (65 miles) north-west of Bologna. 1 hours 23 minutes drive.
141 km (88 miles) west of Venice. 2 hour drive.
149 km (93 miles) east of Milan. 2 hours 9 minutes drive.

Battle Description
---
If you are touring New Zealand then check out TikiTouring for tours and accommodation deals.