Tours: Marengo
Location maps for battles in Italy
Marengo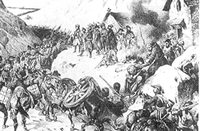 Hotels in Milan
Tours & Events in Milan
Hotels in Genoa
Hotels in Turin
Near Alessandria, Marengo was one of the most decisive victories of Napoleon Bonaparte's battles.
The battle, however, was not an easy one and for much of the day the French looked like tasting defeat until a counterattack by Louis Desaix won the day, but lost him his life.
70 km (44 miles) north of Genoa. 57 minutes drive.
94 km (59 miles) south-west of Milan. 1 hour drive.
86 km (54 miles) east of Turin. 1 hour 3 minutes drive.
93 km (58 miles) south-west of Milan. 1 hour 6 minutes drive.
114 km (71 miles) north-east of Mondovi. 1 hour 36 minutes drive.

Battle Description
---
If you are touring New Zealand then check out TikiTouring for tours and accommodation deals.