Tours: Milan
Location maps for battles in Italy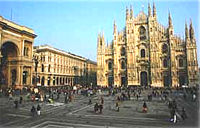 Hotels in Milan
Tours & Events in Milan
Milan is an excellent base from which to explore the many Napoleonic battlefields in the region.
It was seized in 1799 by Russia's Marshal Suvarov following several victories over the armies of France, notably at Magnano and Cassano.
In 1800 it was the initial reorganisation point for the French army which had just crossed over the alpine passes and arrived - with Napoleon Bonaparte at its head - to thwart Austrian moves in northern Italy.
Milan is known for its fashion, cuisine, opera, the world's fourth-largest church, a renaissance castle and Leonardo da Vinci's Last Supper fresco. For opera buffs La Scala will be the drawcard and there are many fine museums and galleries.
34 km (21 miles) north-west of Lodi. 34 minutes drive.
34 km (21 miles) south-east of Magnano. 34 minutes drive.
94 km (59 miles) north-east of Marengo. 1 hour drive.
86 km (54 miles) west of Brescia. 1 hour 23 minutes drive.
110 km (69 miles) west of Lonato. 1 hour 41 minutes drive.
117 km (73 miles) west of Castiglione. 1 hour 47 minutes drive.
149 km (93 miles) west of Mantua. 2 hours 9 minutes drive.
210 km (131 miles) north of Bologna. 2 hours 17 minutes drive.
203 km (127 miles) north-east of Mondovi. 2 hours 27 minutes drive.
571 km (357 miles) north of Rome. 6 hour 15 minute drive.
---