Tours: Napoleon's Tomb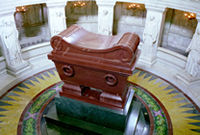 Within Les Invalides is the final resting place of Napoleon Bonaparte.
The former emperor's body was returned to France from St Helena in 1840 and, after a state funeral, was laid to rest in St Jerome's Chapel while his tomb was completed in 1861.
There was no expense spared for the tomb and Napoleon Bonaparte's body lies within six separate coffins. They are made of iron, mahogany, two of lead, ebony, and the outer one is red porphyry.
The tomb sits on a green-granite pedestal surrounded by 12 pillars of victory.