Tours: Rivoli
Location maps for battles in Italy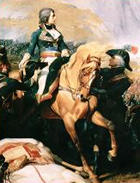 Hotels in Verona
Hotels in Brescia
Visitors can get terrific views of the important parts of the battlefield and see the terrain the troops of both sides needed to manouevre over and fight on.
Among the many things to see at Rivoli are an old farmhouse that was used during the battle and a monument to the French army in the Osteria Gorge. The original memorial was attacked by vengeful Austrian troops in 1814 and its remains can stil be found where it fell.
37 km (23 miles) north-west of Verona. 34 minutes drive.
100 km (60 miles) north-east of Brescia. 1 hour 24 minutes drive.
---