Tours: Verona
Location maps for battles in Italy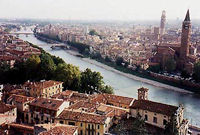 Hotels in Verona
Hotels in Bologna
Hotels in Milan
Tours & Events in Milan
Verona was an extremely important fortified city in 1799 and, in March of that year, witnessed an indecisive clash between more than 30,000 French and Austrian troops.
It was one of the four key Austrian strongpoints in northern Italy - known as the Quadrilateral - the others were Mantua, Peschiera, and Legnano.
Verona has a magnificent Roman amphitheatre that is regarded as one of the world's best arenas for opera.
32 km (20 miles) west of Arcola. 30 minutes drive.
43 km (27 miles) east of Lonato. 33 minutes drive.
37 km (23 miles) south-east of Rivoli. 34 minutes drive.
46 km (29 miles) east of Castiglione. 36 minutes drive.
46 km (29 miles) north of Mantua. 40 minutes drive.
138 km (86 miles) north of Bologna. 1 hours 43 minutes drive.
152 km (95 miles) east of Milan. 2 hours 10 minutes drive.

---