SHARPE'S BATTLE
(1995)
103 minutes
12+

Video Diaries of Rifleman Harris
90%

By RICHARD MOORE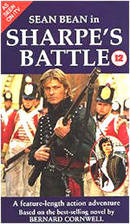 It just isn't fair. Not at all. Why the hell should Richard Sharpe not only get to cross blades with the French all the time, but also get to meet a whole series of beautiful ladies. Fair makes you sick.
And, in Sharpe's Battle, our lad gets to cast eyes upon a stunning English rose in the shape of the long-suffering Lady Kiely (Allie Byrne).
Lady Kiely is married to an aristocratic wannabe soldier who dreams of battlefield glory, but is instead assigned to command an Irish company of troops that forms part of the King of Spain's bodyguard.
With a French force operating nearby, under the vicious Brigadier Loup, and the daily threat of an Irish mutiny in the British ranks, Sharpe has to teach Kiely and his men the not-so-gentle art of war.
However, Kiely has to also learn the not-so-gentle art of picking the right woman as he is sidetracked into an affair with a female Spanish partisan leader.
Things become even uglier when his troops start to desert and an assault by a vengeful Loup has everyone's life on the line.
Sharpe's Battle is good viewing and its characterisations give it an involving edge.
| | | | |
| --- | --- | --- | --- |
| CAST | | | |
| Sharpe | Sean Bean | Harper | Daragh O'Malley |
| Wellington | Hugh Fraser | Munro | Hugh Ross |
| Hagman | John Tams | Harris | Jason Salkey |
| Perkins | Lyndon Davies | Ramona | Diana Perez |
| Runciman | Ian McNeice | Loup | Oliver Cotton |
| Lord Kiely | Jason Durr | Lady Kiely | Allie Byrne |
| O'Rourke | Liam Carney | Donaju | Phelim Drew |
| Miranda | Maria Petrucci | | |