Video Diaries of Rifleman Harris
(1994)
59 minutes

Sharpe Reviews
Jason Salkey on Sharpe
Video Diaries of Rifleman Harris 1
Video Diaries of Rifleman Harris 2
Video Diaries of Rifleman Harris 3
Video Diaries of Rifleman Harris 4
Video Diaries of Rifleman Harris 5
Prices and how to order
Rifleman Harris website
70%

By RICHARD MOORE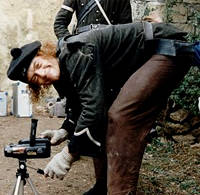 If you want to get a different look at the terrific Sharpe series, then checking out the Video Diaries of Rifleman Harris is one such way.
While the filmed show was action, adventure, tough bad guys and lovely leading ladies, Video Diaries shows a commercial and hard-hearted side.
The early Sharpe movies were clearly shot on a low budget - eight horses and cavalrymen being a major charge by Napoleon's mounted hordes - but it isn't until you see how cheap they actually were that you marvel they came out well at all.
Mind you, the bias is all from the actors' points of view but from the digs these guys had to stay at it is hard to call them pampered.
The hero of Video Diaries is Jason Salkey, also known as Rifleman Harris, who was with the series for five years. He took a small video camera on to location in the Crimea for the filming of Sharpe 3 - as the crew called it - Sharpe's Gold and Sharpe's Battle as we saw them.
Poor food, tolerable lodgings - albeit ones without running water - and maniacal local drivers give the Chosen Men a harder time than any French crapaud could have done.
Salkey shows a good sense of humour while on the vid and only occasionally falls into tomfoolery. Mind you, there's more than a bit of savagery directed towards those who are producing the shows and he's not above intimating they are tightwads of the first degree.
The shooting conditions were hot - 90+ degrees - and getting water on set is, according to Salkey, cause enough to have a huge blow-up and end the career in Sharpe of one of the Chosen Men.
The beauty of the diaries is a warts and all behind-the-scenes peek at life in Sharpe and, trust me, there are more than a few warts.
The first diary goes for 59 minutes.
NB: There are six episodes of this series now available on DVD for all regions. The films are shot on Hi-8 and digitally transferred to Applemac's Final Cut Pro 6.