SHARPE'S COMPANY
(1994)
120 minutes
PG 15+

Video Diaries of Rifleman Harris
90%
By RICHARD MOORE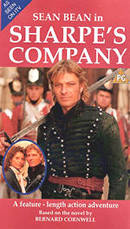 Surviving the bloody storming of a breach at the French-held fortress of Ciudad Rodrigo, Richard Sharpe finds himself passed over by a rich officer who can purchase higher rank.
Despondent, Sharpe is quickly snapped back to reality by the arrival of an old foe, Sergeant Obidiah Hakeswill, who proceeds to make his life difficult.
Through brown-nosing, brutality and bullying, Hakeswill worms his way into the good books of the senior officers of the South Essex and when he gets a chance to get Sergeant Harper punished for a crime he did not commit is set to rule the rank and file.
Seeing his men suffering, but being powerless to catch Hakeswill at his deplorable game, Sharpe concentrates on winning promotion - a matter only guaranteed by leading a suicidal party into the breach of the next fortress at Badajoz.
To make his determination even stronger, he discovers that his lover Teresa is in the city spying for the British and he needs to get to her before the usual orgy of destruction and debauchery by victorious troops overwhelms her.
And, if the French fail to kill him, there is always the murderous Hakeswill to try.
Sharpe's Company is one of the better movies in the first episodes of the series, with clearly more resources being given to the production team.
The script is good, the characters, particularly Hakeswill (played by the brilliant Pete Postlethwaite) are well rounded and the action fast paced.
CAST

Sharpe

Sean Bean

Harper

Daragh O'Malley

Hagman

John Tams

Harris

Jason Salkey

Teresa

Assumpta Serna

Hakeswill

Pete Postlethwaite

Wellington

Hugh Fraser

Munro

Hugh Ross

Perkins

Lyndon Davies

Ramona

Diana Perez

Cooper

Michael Mears

Loup

Oliver Cotton

Windham

Clive Francis

Fletcher

Nicholas Jones

Price

Scott
Cleverdon

Collett

Robert Morgan

Sally Clayton

Louise Germaine

Mrs Grimes

Soo Drouet

Matthews

William Mannering

Rymer

Marc Warren

Clayton

Peter Gunn