SHARPE'S EAGLE
(1993)
100 minutes
15+


Video Diaries of Rifleman Harris
85%
By RICHARD MOORE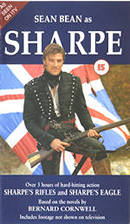 Having proven himself as an officer to his men, if not a gentleman to his fellow commissioned officers, Richard Sharpe and the Chosen Men are attached to the South Essex regiment under Colonel Henry Simmerson.
The colonel is a snob and hates Sharpe from the outset and sets his two "pet" officers on to the upstart to get rid of him.
Unfortunately for Simmerson he is sent on a mission into enemy territory where his lack of judgement and cowardice are put in to plain view.
With the regiment disgraced, except for Sharpe and his men, the scene is set for terrible retribution at the Battle of Talavera where Simmerson plots his revenge.
Largely centred on the internal rivalries and hatreds within the regiment, Sharpe's Eagle is very good viewing.
The battle scenes, particularly Talavera, are a tad lacking in troop numbers, but overall it retains interest through the characters.
Michael Cochrane is great as the detestable Simmerson, Neil Dudgeon is restrained as the colonel's thick nephew and Daniel Craig plays a pretty mean villain.
As usual, Brian Cox is excellent and Assumpta Serna is exquisite.
| | | | |
| --- | --- | --- | --- |
| CAST | | | |
| Sharpe | Sean Bean | Harper | Daragh O'Malley |
| Hagman | John Tams | Harris | Jason Salkey |
| Teresa | Assumpta Serna | Simmerson | Michael Cochrane |
| Wellesley | David Troughton | Hogan | Brian Cox |
| Lennox | David Ashton | Leroy | Gavin O'Herlihy |
| Perkins | Lyndon Davies | Ramona | Diana Perez |
| Josefina | Katia Caballero | Gibbons | Neil Dudgeon |
| Lawford | Martin Jacobs | Fletcher | Nicholas Jones |