SHARPE'S ENEMY
(1994)
120 minutes
PG 15+


Video Diaries of Rifleman Harris
90%
By RICHARD MOORE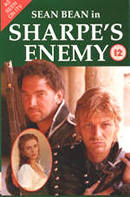 Now if you are bored with the usual television fare and feel the need for some excitement, then spending an hour-and-a-half-plus with this excellent drama will do you no harm.
Imagine this. Fighting between British and French, French and French, British and British and, the chance to see the lovely Liz Hurley in an acting role, means this is one of the picks of the entire Sharpe series.
A renegade multi-national army of deserters under Pot au Feu and the former sergeant (now colonel) Hakeswill, has captured a town - and with it the wife of a leading British military figure.
Lord Farthingdale approaches Sir Arthur Wellesley for help in getting his wife (Liz Hurley) back and his arrogant, rude and cowardly behaviour makes even those who love overblown buffoons hate him.
The task is given to Richard Sharpe to rescue the lady in question and the plots and sub plots with this movie make it a real cracker.
For not only has Sharpe to deal with the large force of deserters, but a major French attack column is also on the move to take the town he occupies and then push its way through into British territory.
The action is excellent and the varying levels of storyline really work well.
It could be the fact it remains reasonably true to the book, but also the terrific performances from Hurley, Pete Postlethwaite and Philip Whitchurch, as Sharpe's new ally in Captain Frederickson of the 60th Rifles.The scene where he and his men meet Sharpe and the 95th's Chosen Men is a treat.
Added to by a huge dose of tragedy, Sharpe's Enemy is one of the best of the entire series and is an essential part of the collection.
| | | | |
| --- | --- | --- | --- |
| CAST | | | |
| Sharpe | Sean Bean | Harper | Daragh O'Malley |
| Hagman | John Tams | Harris | Jason Salkey |
| Teresa | Assumpta Serna | Hakeswill | Pete Postlethwaite |
| Wellington | Hugh Fraser | Nairn | Michael Byrne |
| Perkins | Lyndon Davies | Lady Farthingdale | Elizabeth Hurley |
| Cooper | Michael Mears | Ducos | Feodor Atkine |
| Sir Augustus | Jeremy Child | Frederickson | Philip Whitchurch |
| Dubreton | Francois Guetary | Sarah Dubreton | Helena Michell |
| Pot Au Feu | Tony Haygarth | | |