SHARPE'S GOLD
(1995)
103 minutes
12+

Video Diaries of Rifleman Harris
75%
By RICHARD MOORE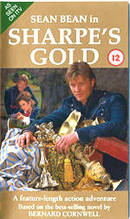 Hmmmmmm. All that glisters is not gold, and all that's gold isn't necessarily fantastic value.
Unfortunately, this is the case with Sharpe's Gold, a movie that just doesn't quite fit into the larger picture of the series.
Bess and Ellie Nugent are stubborn relatives of the Duke of Wellington and they ride into camp one day on a search for their husband/father who has gone missing while making maps.
Of course that sort of things happens all the time in war, but the lost man was last seen in an area that is supposed to be run by pagan-worshipping descendants of the Conquistadors. There is even talk of human sacrifice.
Ever the ladies man, Richard Sharpe becomes quite fond of the young Ellie but finds himself unwillingly escorting the pair on the hunt for their loved one.
Not only does he have to be on the lookout for the French, but he needs to defend his troops against the British provosts who take a great deal of pleasure in hanging soldiers who so much as steal a chicken.
There are some nice twists in the storyline, the characters good and the action scenes are fine but Sharpe's Gold just never quite strikes the right chord.
Perhaps it's the slight deviation into the supernatural that takes it over the edge.
It does, however, introduce the new intelligence officer for the series. Hugh Ross plays Mungo Munro, a dour Scot with a penchant for the pipes, and does it with a great deal of style.
Sharpe's Gold will be enjoyed by Sharpeophiles, but if it's not in your collection the series does not suffer at all.
| | | | |
| --- | --- | --- | --- |
| CAST | | | |
| Sharpe | Sean Bean | Harper | Daragh O'Malley |
| Hagman | John Tams | Harris | Jason Salkey |
| El Casco | Abel Folk | Ellie Nugent | Jayne Ashbourne |
| Wellington | Hugh Fraser | Munro | Hugh Ross |
| Perkins | Lyndon Davies | Lady Farthingdale | Elizabeth Hurley |
| Cooper | Michael Mears | Provost Marshal | Philip McGough |
| Bess Nugent | Rosaleen Linehan | | |