SHARPE'S HONOUR
(1994)
120 minutes
15+

Video Diaries of Rifleman Harris

95%
By RICHARD MOORE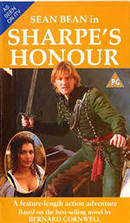 There are very few screen nasties who show up with as much resilience as Major Pierre Ducos.
Ruthless, but a bit of a wimp when it comes to blade-through-the-guts action, Ducos is a personal enemy of Richard Sharpe following their altercation after the tragedy in Sharpe's Enemy.
Fed up with his side being humiliated by the low-class Englishman, Ducos sets in train a plan that will not only kill Sharpe, but lead to the end of Spanish resistance against France.
To this end he calls upon the services of the masterful spy, La Marquesa (Alice Krige) who is blackmailed by the conniving Ducos into backing his operation, which sees Sharpe charged with murder and sentenced to be executed by hanging.
What follows is an excellent action adventure filled with intrigue and a terrific love-hate relationship between Sharpe and the woman he blames for his predicament.
Escaping, Sharpe finds himself not only battling the Catholic church, a murderous brigand with a penchant for slicing victims into pieces, a wilful and beautiful woman, but also his own army.
Krige is sensational as the seductive La Marquesa and Nickolas Grace plays a politically minded priest with absolute conviction.
Sharpe's Honour is definitely a cut above the rest.
| | | | |
| --- | --- | --- | --- |
| CAST | | | |
| Sharpe | Sean Bean | Harper | Daragh O'Malley |
| Hagman | John Tams | Harris | Jason Salkey |
| La Marquesa | Alice Krige | Father Hacha | Nickolas Grace |
| Wellington | Hugh Fraser | Nairn | Michael Byrne |
| Perkins | Lyndon Davies | Lady Farthingdale | Elizabeth Hurley |
| Cooper | Michael Mears | Ducos | Feodor Atkine |
| El Matarife | Matthew Scurfield | Vaughan | James Saxon |