SHARPE'S JUSTICE
(1997)
101 minutes
12+

Video Diaries of Rifleman Harris

By RICHARD MOORE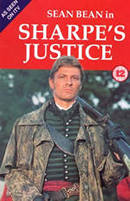 The follow-up to Sharpe's Revenge, this movie has Richard Sharpe and Sergeant Harper back in Britain where the only positions open to them are in the Yorkshire Yeomanry.
Not thrilled with going back to his native county, Sharpe is even less happy when a orphan-house rival begins taking pot shots at him and kills his horse.
So imagine just how peeved he gets when he discovers that his estranged wife and her new beau have inherited a run-down mansion just over the hills and not far away.
In addition to the romance sub plot, Sharpe and Harper have to contend with mill burners, riotous mobs and a wonderfully nasty aristocratic yeomanry officer (Douglas Henshall).
Sharpe's Justice has its fair share of action, but it is more a look at life at home in Georgian times and is nicely held together by a good plot.
| | | | |
| --- | --- | --- | --- |
| CAST | | | |
| Sharpe | Sean Bean | Harper | Daragh O'Malley |
| Hagman | John Tams | Harris | Jason Salkey |
| Jane Sharpe | Abigail Cruttenden | Lady Anne | Caroline Langrishe |
| Truman | Philip Glenister | Wickham | Douglas Henshall |
| Rossendale | Alexis Denisof | | |
| Parfitt | Tony Haygarth | | |
| Stanwyck | Philip Anthony | | |