SHARPE'S MISSION
(1996)
101 minutes
15+
95%

Video Diaries of Rifleman Harris

By RICHARD MOORE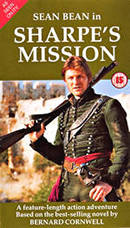 It's not often that Richard Sharpe is fooled, but in Sharpe's Mission, his judgement is shown to be far from perfect.
A man Sharpe believes is a far greater hero than himself is actually a French collaborator who loves to kill people for pleasure.
Ruthless and arrogant beyond belief, this chappie reckons he can fool Sharpe a second time and lead him, as well as Major Ross, into captivity.
Well, as we all know, it takes a pretty hard man to get the better of Sharpie - but this time around he may be so befuddled by his damned wife that he can't think straight.
Sharpe's Mission is to escort the baddies behind enemy lines and blow up a massive French arms depot, a task that needs the expertise of the badly injured Pyecroft who now wears a hood to cover his burn scars.
Willing to always help his false-hero, Sharpe eventually finds that many friends and foes die in strange circumstances and the only answer is betrayal.
This is possibly the pick of the entire series with friendship, passion, betrayal and a whole host of really good actors playing some really well crafted parts.
A must have.
| | | | |
| --- | --- | --- | --- |
| CAST | | | |
| Sharpe | Sean Bean | Harper | Daragh O'Malley |
| Hagman | John Tams | Harris | Jason Salkey |
| Jane Sharpe | Abigail Cruttenden | Brand | Mark Strong |
| Ross | James Laurenson | Wellington | Hugh Fraser |
| Rossendale | Alexis Denisof | Pope | Andrew Schofield |
| Pyecroft | Nigel Betts | Shellington | Warren Saire |