SHARPE'S REGIMENT
(1996)
102 minutes
12+


Video Diaries of Rifleman Harris
90%
By RICHARD MOORE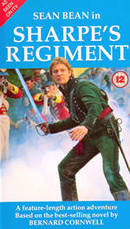 With the regiment close to being split into batches of reserves for other units, Sharpe and Harper have to return to England and work out why the South Essex's 2nd battalion has not been sending reinforcements to Spain.
They discover the barracks has been in operation and the men have marched off, but exactly where and why is another matter.
Rejoining their own regiment, they sign on as common soldiers and have to put up with the brutality of military life in the Georgian era.
Among the key brutes is a complete wusser called Colonel Girdwood (very well played by Mark Lambert) who twitches his tarred moustache as well as he trains men.
Our heroes discover that Sir Henry Simmerson has an interest in the missing soldiers, as does Lord Fenner (a vile version of Nicholas Farrell), the man in charge of the army, and among other things face assassination, murder, and one heck of a bad time.
Set almost exclusively in England, Sharpe's Regiment is a great view of the times there and is one of the high points of the series.
| | | | |
| --- | --- | --- | --- |
| CAST | | | |
| Sharpe | Sean Bean | Harper | Daragh O'Malley |
| Fenner | Nicholas Farrell | Girdwood | Mark Lambert |
| Jane Sharpe | Abigail Cruttenden | Lady Anne | Caroline Langrishe |
| Simmerson | Michael Cochrane | Ross | James Laurenson |
| Prince Regent | Julian Fellowes | Haverkamp | Norman Rossington |