SHARPE'S REVENGE
(1997)
101 minutes
12+

Video Diaries of Rifleman Harris
85%
By RICHARD MOORE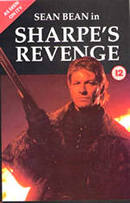 Poor old Sharpie. It doesn't seem to matter just how well things are going at the start of his movies, things turn all to crap within minutes of the intro.
This time around the good news is that the Peninsular War is just about over. Napoleon's troops have been pushed out of Spain and back into France and the battle for Toulouse is about to begin.
Getting a bit nervous (finally) about his chances of surviving, and a tad suspect about living the life of a gentleman back in old England, our Sharpe has a deep and meaningful with his wife Jane about his prospects.
The bad news begins when, during this D and M, he signs over all his wealth to the flighty creature, who makes him promise that this is his last battle.
Needless to say, he is forced by honour to break the promise and so Mrs Sharpe sails for England leaving him behind, but taking his money.
Things get worse when his nemesis, Major Pierre Ducos, reappears and sets him up by stealing a massive amount of French gold and blaming it upon Sharpe.
In order to clear his name our lad has to leg it to Normandy, discover the truth and then prove it in court to avoid execution.
If that's not enough he has to put up with his wife in the bed of a former friend, Lord John Rossendale.
This twist in the romantic life of Richard Sharpe has you really getting to hate Jane, and Abigail Cruttenden deserves a special mention for making her a completely loathsome individual.
Sharpe's Revenge is very good entertainment with a good plot, good fight scenes and an above average interest level in the characters.
| | | | |
| --- | --- | --- | --- |
| CAST | | | |
| Sharpe | Sean Bean | Harper | Daragh O'Malley |
| Lucille | Cecile Paoli | Frederickson | Philip Whitchurch |
| Jane Sharpe | Abigail Cruttenden | Brand | Mark Strong |
| Ross | James Laurenson | Wellington | Hugh Fraser |
| Rossendale | Alexis Denisof | Pope | Andrew Schofield |
| Calvet | John Benfield | Ducos | Feodor Atkine |
| Wigram | Tom Hodgkins | Lady Molly | Connie Hyde |