SHARPE'S RIFLES
(1993)
100 minutes
15+


Video Diaries of Rifleman Harris

85%
By RICHARD MOORE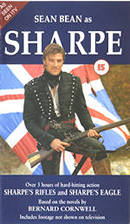 Sergeant Richard Sharpe is a tough man. He's needed to be, serving in the British army in India against rebel princes.
He keeps out of officers' way, looks after his men and wants a quiet life of drinking, womanising and a bit of regular swordplay against the French.
Smart though he is, Sharpe makes the mistake (career-wise) of saving the life of the British commander, General Wellesley, and is given a field commission to lieutenant.
An honour, yes, but in the British army of 1808 raising a man from the ranks was fraught with difficulty as he then had to mix with those of better class.
Still, Sharpe is bright, although his reading is poor. His troubles don't end with his social betters either, for the men under his command - the Chosen Men of the 95th Rifles - don't take to be ordered around by a man from the gutter, one who is not a proper officer.
Set during the disastrous British retreat to Corunna in late 1808, Sharpe not only has to beat the pursuing French, but also win over his rough men led by the very large Sergeant Patrick Harper.
To add to his worries, he needs to escort a sacred Spanish icon deep within French territory and stay on good terms with the female leader of a group of guerrillas, known as The Needle. Don't ask why (it's too gruesome to recount).
As the first in a very lengthy series, Sharpe's Rifles has to quickly set the scene, interest you in the characters and then make sure there's enough action to keep you entertained.
It is fair to say that it does the job very well indeed. The internal strife is handled as one would have expected in those times and Sharpe's own doubts about his position are well played by Sean Bean. Brian Cox is excellent as the Irish intelligence officer Hogan and the stunning Assumpta Serna is striking as Sharpe's love interest Teresa.
The uniforms and weaponry of the Napoleonic Era are spot on and some terrific photography is boosted by period music and military songs.
Join up and march with Sharpe.
| | | | |
| --- | --- | --- | --- |
| CAST | | | |
| Sharpe | Sean Bean | Harper | Daragh O'Malley |
| Hagman | John Tams | Harris | Jason Salkey |
| Teresa | Assumpta Serna | Vivar | Simon Andreu |
| Wellington | David Troughton | Hogan | Brian Cox |
| Perkins | Lyndon Davies | Cooper | Michael Mears |
| Man in Black | Anthony Hyde | Major Dunnett | Julian Fellowes |