SHARPE'S SIEGE
(1996)
102 minutes
12+

Video Diaries of Rifleman Harris
95%
By RICHARD MOORE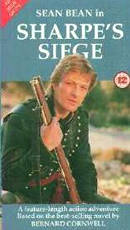 The new commander of the South Essex is about to join the regiment and so a disappointed Sharpe heads out for a meal with his new wife, Jane.
At the cosy eatery a drunken snob challenges our hero to a duel but, after discovering who his opponent will be, quickly offers an apology.
Sharpe is about to fillet him anyway when it is pointed out that Colonel Bamfylde is actually his new superior officer. So from those inauspicious beginnings, Sharpe's career sets off on another downwards plunge - until he is called on for action and there's plenty of that in this excellent movie.
Sharpe is called on to use his military skills to assist a seaborne raid of France that will involve capturing a castle and supporting a revolt that will open the way for Wellington to advance.
Needless to say, the operation is sabotaged, badly handled and ruined by the various characters and it is only Sharpe who has the military nouse to save his men from capture or death.
There is also a brilliantly funny scene where an exhausted Sharpe decides not to take advantage of a rather cute French woman who offers her virginity to try to get hold of quinine that may save her mother from a virulent fever.
Sounds terrible, but it really does show that Sean Bean has the man Sharpe down pat by this stage of the series.
The plot, action sequences and script carry you along on a truly excellent adventure.
Sharpe's Siege is one of the best, if not the best, in the whole lineup. It is terrific from go to whoa and there is not one wasted moment. A must have!
| | | | |
| --- | --- | --- | --- |
| CAST | | | |
| Sharpe | Sean Bean | Harper | Daragh O'Malley |
| Hagman | John Tams | Harris | Jason Salkey |
| Jane Sharpe | Abigail Cruttenden | Catherine | Amira Casar |
| Ross | James Laurenson | Wellington | Hugh Fraser |
| Frederickson | Philip Whitchurch | Ducos | Feodor Atkine |
| Maquerre | Christian Brendel | Bampfylde | Christopher Villiers |