SHARPE'S SWORD
(1995)
102 minutes
12+

Video Diaries of Rifleman Harris
90%
By RICHARD MOORE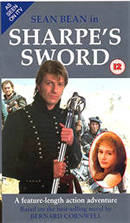 Sniffing out treachery, committing violence, avoiding torture and saving a young lass in deep trouble is all in the line of duty for our hero Richard Sharpe.
Ranged against our flawed fighting man is a ruthless (with a capital R) French colonel, a traitor, Sir Henry (I'm a complete cad) Simmerson and an Irish priest who has no love for the English.
He is also up against a former novice nun who has rejected the church and has taken a major liking to getting into his uniform.
Adding to his woes, Sharpe finds to his dismay that he can be badly injured, can face fever and death, and may not be the all-conquering fighter he has been to date.
Sharpe's Sword is a really good adventure that throws twists, turns and shimmies around with abandon.
There is plenty of action, a good plot, terrific actors and a real sense of belonging to the characters.
Emily Mortimer is the love interest and she is truly lovely. James Purefoy is admirably manly as the exploring officer Lord Spears, Michael Cochrane is excruciatingly easy to strangle as Simmerson and Walter McDonagle, who sings such a beautiful song it reduces our man Sharpe to tears.
But, the pick of the support mob goes to Pat Laffan who portrays a real-life, drunken angel of mercy called Connelly, who eases sick and dying men into the next life.
Sharpe's Sword is a damn fine episode and well worthy of the collection.

| | | | |
| --- | --- | --- | --- |
| CAST | | | |
| Sharpe | Sean Bean | Harper | Daragh O'Malley |
| Hagman | John Tams | Harris | Jason Salkey |
| Lass | Emily Mortimer | Leroux | Patrick Fierry |
| Wellington | Hugh Fraser | Munro | Hugh Ross |
| Spears | James Purefoy | Simmerson | Michael Cochrane |
| Father Curtis | John Kavanagh | Don Felipe | Vernon Dobtcheff |