Video Diaries of Rifleman Harris 4
(1994)
69 minutes

Sharpe Reviews
Jason Salkey on Sharpe
Video Diaries of Rifleman Harris 1
Video Diaries of Rifleman Harris 2
Video Diaries of Rifleman Harris 3
Video Diaries of Rifleman Harris 4
Video Diaries of Rifleman Harris 5
Prices and how to order
Rifleman Harris website
80%

By RICHARD MOORE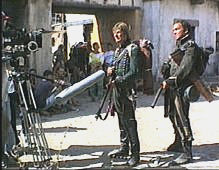 Harris is back with handycam in hand zipping around behind the scenes of the great Sharpe series.
The fourth installment of the Video Diaries of Rifleman Harris starts back in the Crimea, at a place called the Baidar Valley where the night shoots for Sharpe's Sword are being worked on.
It is cold, the boss is cost-cutting (as usual) and all the actors have to put up with things that you can bet would have most wishing they were back waiting on tables.
Mind you, in the Video Diary of Riffleman Harris 4 you get to see what a tough life really is when Jason Salkey takes his camera out and about to see how Ukrainians survive. Not easily it should be said.
Anyway, apart from giving us a lot of visual reasons why Communism deserved to die, Salkey is able to focus on the filming and production of Sharpe's Sword rather than the chaos that usually accompanied the filming of Sharpe movies.
There are scenes of Jack Speare's retreating with his redcoats from the French fort - complete with telling scenes of an interpreter letting the Ukrainian soldiers know what they are supposed to do. And hand-to-hand action as the Froggies defend the fort in which we see our video hero kicking Froggie butt in a most serious way.
We also get to see Sean Bean challenge the nasty Colonel Leroux to a duel - having been prepped by Jason Salkey's voiceover suggesting it was straight out of the actor's training in a Yorkshire pub.
Now if I may throw in a personal view here I have to say that Sharpey looks like he really needed to do a bit of weight training as he looks a bit thin in the chest department. However, the girls on the production clearly didn't mind as they were queuing up to make sure his bandages (that would never be seen under his shirt) were put on properly.
There's also the personal relationship angle with marriages, affairs and even the fact that our hero 'fesses up to the fact he's got his good lady pregnant and so marriage is in the air.
One of the amazing things to be seen in Harris 4 - well, to any ardent follower of the series anyway - is the fact that Michael Cochrane (the guy who plays the odious dork Simmerson) is a favoured member of the team.
To quote Jason Salkey "Michael Cochrane was as natural to Sharpe as Nature itself."
Now this puts anyone who has viewed the character as a little scumbag - wonderfully summed up by Stephen Moore (Colonel Berkeley) as a "horrible little brute" - on the back foot.
Oh well.
And speaking of someone who should be beloved, Emily Mortimer as the delectable Lass is lovely and ... well ... there are lots of pictures of her.
After the horrors of the Crimea, the Sharpe mob head for Portugal where life is better and the movie is wrapped up.
It's fair to say in Harris 4 our beloved correspondent isn't anywhere as ratty as he has been in previous episodes and that's a shame. Perhaps it was impending daddyhood.
We have no doubt he'll be back and we look forward to seeing more of the behind the scenes goings on of Sharpe. Here's to our courtier to Lord Bacchus!
NB: There are six episodes of this series now available on DVD for all regions. The films are shot on Hi-8 and digitally transferred to Applemac's Final Cut Pro 6.