Video Diaries of Rifleman Harris 5
(1995)
69 minutes
Sharpe Reviews
Jason Salkey on Sharpe
Video Diaries of Rifleman Harris 1
Video Diaries of Rifleman Harris 2
Video Diaries of Rifleman Harris 3
Video Diaries of Rifleman Harris 4
Video Diaries of Rifleman Harris 5
Prices and how to order
Rifleman Harris website
85%

By RICHARD MOORE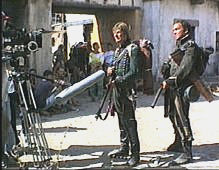 Well our Jason is back in a new behind-the-scenes adventure on the sets of Sharpe and it looks like our intrepid video diarist has been to a film production course.
Yup old Rifleman Harris has never looked, or sounded, better although the trademark self-deprecation and humour are still more than apparent.
This time around the Video Diaries of Rifleman Harris, No.5, take a peek at the fourth year of production on the Sharpe series. The movies focused on are Sharpe's Regiment and Sharpe's Mission.
The DVD begins with Jason Salkey telling us he is now a dad - very belated congrats - although lost his own father. Then it's pretty much off to Turkey on a private charter complete with hosties and in-flight film and to the Banana hotel in a tourist resort.
As one of my favourite in the series is Regiment, I really enjoyed seeing behind the scenes and took a bit of a chortle when poor old Harris falls in the river, wets his rifle and has to be part of the cover shoot while soaked to the skin. (See Jason, told you God doesn't support Chelsea!).
And there is more than a little laughter at the scenes that took many shoots because of overly loud Turkish roosters, goats or calls to prayer.
With Mission also a much-rewatched movie, I was glad to see the sections involving that particular one. Not only do I like the storyline - which was a marked improvement on the other non-Bernard Cornwell plot Sharpe's Gold - but it is pointed out by Jason that the creepy poet Shellington had eyes firmly placed upon Mrs Sharpe's (Abigail Crittendon) cleavage. Next time edit that out Jason as it made me feel self-conscious about my own leering.
Still we have to realise the inordinate amount of time spent on Mission is probably down to the fact it is a major role for our lad who gets to not only have lots of lines to say, but also has a major part in the plot. And, dare we say through non-biased lips, that it not before time!
Now we know that stars aren't always treated as such, but - shock of shocks - this DVD reveals how close Daragh O'Malley came to being unemployed. No real reasons are given but it seems the bosses were looking to axe him.
It took the flashing blade of Sharpe himself, Sean Bean, to stomp on that move very quickly. Hooray!
All up Video Diaries of Rifleman Harris 5 is terrific. It certainly is the best of the series production-wise and Jason Salkey can be very proud of his achievements.
NB: There are six episodes of this series now available on DVD for all regions. The films are shot on Hi-8 and digitally transferred to Applemac's Final Cut Pro 6.