Video Diaries of Rifleman Harris 2
(1994)
45 minutes

Sharpe Reviews
Jason Salkey on Sharpe
Video Diaries of Rifleman Harris 1
Video Diaries of Rifleman Harris 2
Video Diaries of Rifleman Harris 3
Video Diaries of Rifleman Harris 4
Video Diaries of Rifleman Harris 5
Prices and how to order
Rifleman Harris website
75%

By RICHARD MOORE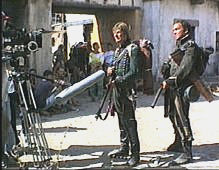 Oh boy, Jason Salkey doesn't pull any punches in his video diaries and the producers of Sharpe cop a bit of a pasting in this second episode.
The cast and crew have just moved from Simply Awful, or Simferapol as it is more correctly known, to another Crimean location the city of Yalta.
While no Venice, compared with what they have left Yalta hits the team as a paradise.
Mind you, within a day there is a strike over no water, and when the liquid does finally run it is accompanied by a host of cockroaches.
Anyway, the Chosen Men are not best pleased and there are plenty of slaggings-off about the food and the episode Sharpe's Gold, which as everyone knows has no resemblance to the book.
The dirt on that comes from Salkey who mentions the knee injury to Paul McGann, the original Sharpe, and how that led to the biggest insurance claim in British TV history - and resulted in the hotch-potch Gold that he compares with an episode of Star Trek.
Moans aside, this second episode gives us a really good look at the stunt work and how some of the excellent fight scenes from Battle were made.
You also get to see the cast and crew hunkered down listening to the BBC and its live soccer reports - and haven't we all - and you get to see the humour brought to the set by the actors who played those deserter rotters.
You also see that the end of Rifleman Perkins hit the cast quite hard.
One of the best parts of the video, however, is looking around Poliwood, or Polikur, which was - and is - the centre of the former Soviet film industry and has been home to such film greats as Gladiator.
Salkey and his collaborator Drew Sutton have really got the hang of this mini doc thing and the second video is more together than the first. I can't wait to see his next episodes.
If I have a moan it has to be the fact that the lovely leading lady of Sharpe's Battle, Allie Byrne, is not present at all on this video. Not once. Not even for a second in the background.
Shame on you Harris!
NB: There are six episodes of this series now available on DVD for all regions. The films are shot on Hi-8 and digitally transferred to Applemac's Final Cut Pro 6.